Stranger Things is one of the most popular shows on Netflix. It has earned a huge fan following thanks to its retro 1980s setting. The latest season re-introduces us to this retro environment but it often feels cringy and unnecessary. However, it is still a roller-coaster ride with its highs and lows.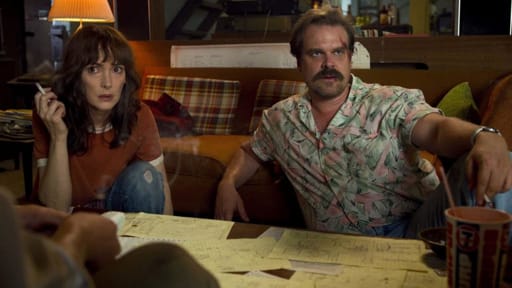 Joyce and Hopper in Stranger Things Season 3
The first episode begins with a bunch of Russians trying to reopen the portal to the "upside-down". They have a huge role in this season. It is summer time and every character is busy with their lives. Mike and Eleven's romance is interrupted by Hopper, who has taken his role to be a parent seriously. He takes parenthood advice from Joyce, who often remembers Bob (who died last season). Dustin has returned from a month-long camp. Mike still has frightening visions. Nancy and Jonathan are interns at a local newspaper (where they are not respected and often humiliated). Steve is serving ice-cream at the new mall. There are just so many characters to keep a track of, and I am yet to mention some more characters.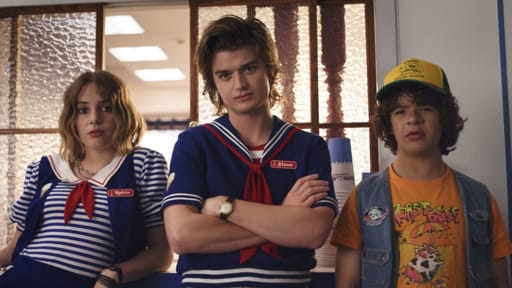 Robin, Steve and Dustin
The main highlights of the season include Eleven and Max's friendship goals, Steve, Dustin and newcomer Robin's adventures, and RATS (you read it right). Maya Hawke plays the role of Robin and fits perfectly in, crashing Dustin and Steve's bromance. She is a smart and invaluable addition to the group. The season has clearly shown the transition of the main characters from kids playing Dungeons and Dragons to teens and adults. Billy, Max's older brother starts the season with a high note but soon loses his grip of reality.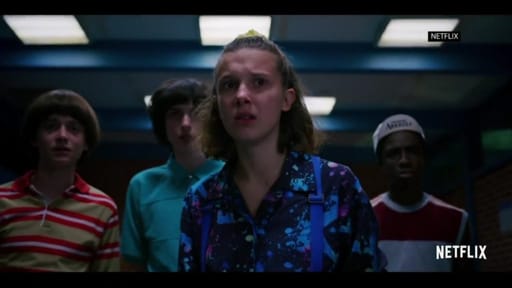 Stranger Things has never been afraid of letting its audience get emotional. In fact, this season is more emotional and heart-breaking than the previous ones. The inclusion of Russians however, felt a little far fetched. The pop culture references felt a little out of place and unnecessary. I am pretty sure that Lucas trying the new Cola flavor is something that not a lot of people will be able to relate to. There are too many characters with their own set of troubles. Some of the new ones like the rude reporters of Nancy's workplace, the mayor of Hawkins and the "Russian terminator" were forgettable.
https://www.youtube.com/watch?v=YEG3bmU_WaI
One of the standouts was the portrayal of the Mind Flayer. It would be a delight to watch the show on a big television. The visuals were nothing short of spectacular. In conclusion, it would be interesting to see how the next season will mold the plot, especially with the post-credits scene that was unexpected. I liked Dark better than Stranger Things but that's just like my opinion.
Liked this story? Make sure to follow us on Facebook & Twitter!