After months of leaked screenshots and media, Sackboy: A Big Adventure is finally out now on PC. The 3D platformer is a spiritual successor to Little Big Planet (PS3 exclusive), with the new release marking the first time the titular hero Sackboy is making his appearance outside the PlayStation ecosystem. Previously a launch title for the PS5, the new PC release adds a slew of new features and effects, along with an unlocked frame rate for those who have the hardware capable of tapping into it.
I played Sackboy: A Big Adventure on my mid-range gaming PC, equipped with an AMD Ryzen 7 3700X CPU, an Nvidia Geforce RTX 2060 Super, and 32GB of memory.
Sackboy: A Big Adventure PC Performance
Are you thinking of picking up #SackboyPC this month? 🖥️

Then check out our PC specs below ahead of its launch on October 27th! 🚀

Steam:https://t.co/udVBd6D5KY

Epic Games Store:https://t.co/fvHZyUeXCQ pic.twitter.com/lCGpJOhbbq

— Sackboy: A Big Adventure | LittleBigPlanet (@LittleBigPlanet) October 11, 2022
Sackboy's initial PC release was plagued with problems, mainly consisting of shader compilation stuttering that made the first playthrough kinda miserable. This was demonstrated in depth by the good folks over at Digital Foundry, and it's part of the reason why I waited a week before publishing my own review.
Thankfully those issues have, for the most part, been fixed with a patch that also included free DLC, just in time for God of War: Ragnarok's arrival. As such, the first bootup is a much better experience.
I really love added ray tracing options in Sackboy: A Big Adventure on PC, but the good is completely overshadowed by intrusive shader compilation stutter. It is simply not acceptable for big publishers to release games like this anymore.#StutterStrugglehttps://t.co/Pzo8ijLoXf pic.twitter.com/IL9Wji2S9Q

— Alexander Battaglia (@Dachsjaeger) November 2, 2022
This isn't the first time a PlayStation-exclusive port has had problems on PC at launch. Horizon: Zero Dawn's PC port was infamous for having a multitude of problems, but this is thankfully in the minority compared to other PC releases. Earlier this year, God of War (2018) arrived on the wide platform without much issue, rising to the top of Steam charts due to excellent optimization and awesome gameplay.
Sackboy, on the other hand, was welcomed with much less fanfare on PC. Currently, as of the time of writing, the game has had an all-time peak of 592 players since its launch two weeks ago. Add in the fact that the game is, to put it bluntly, terribly priced at Rs. 3,999 and no wonder it's getting overlooked.
So let's stop beating around the bush and get on with it. Here is a look at Sackboy's PC performance in the order of traditional rendering effects to the fully ray-traced experience: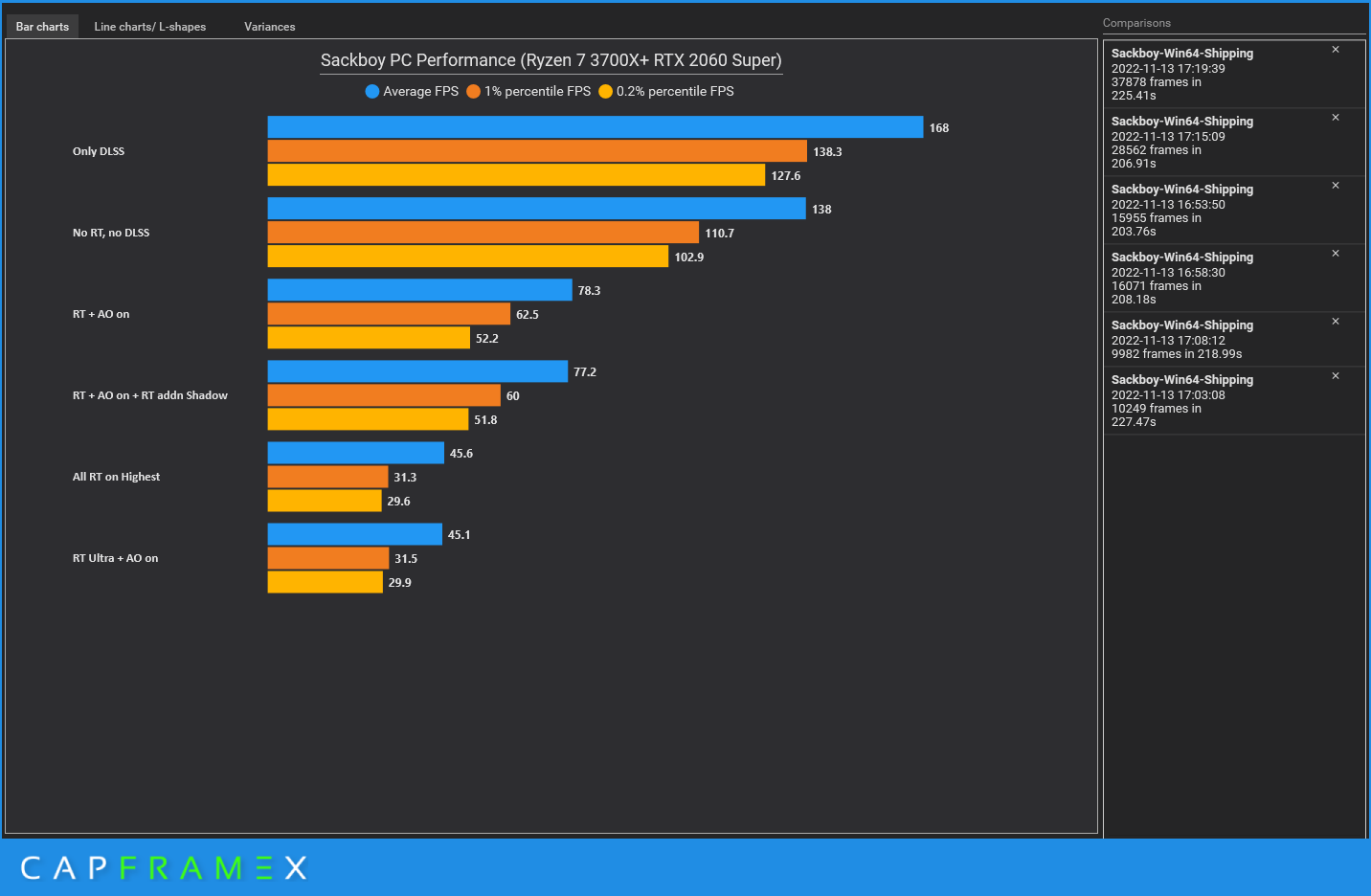 Well, that's about what you'd expect, right? It's a fairly linear progression, but what's the difference in gameplay? Does the increased visual fidelity add anything meaningful to the game? This handy side-by-side should be pretty helpful in showing that the answer is a little disappointing. Unlike other big AAA releases like, say Marvel's Spider-Man, ray tracing adds very little to the perceived depth of the game world. Sure, it looks prettier, but for a game about jumping over cute plushies to get coins while navigating fantastical mazes, ray tracing is very much an add-on. It's a "nice to have" feature.
The PS5 version of the game renders at a dynamic 4K resolution, targeting a pretty stable 60fps. Getting that here is a pretty easy feat, so long as you have an Nvidia card. The game doesn't support AMD's open-source FSR or the newly revealed Intel XeSS, so if you want to play with ray tracing turned on, team green is where you'll have to go.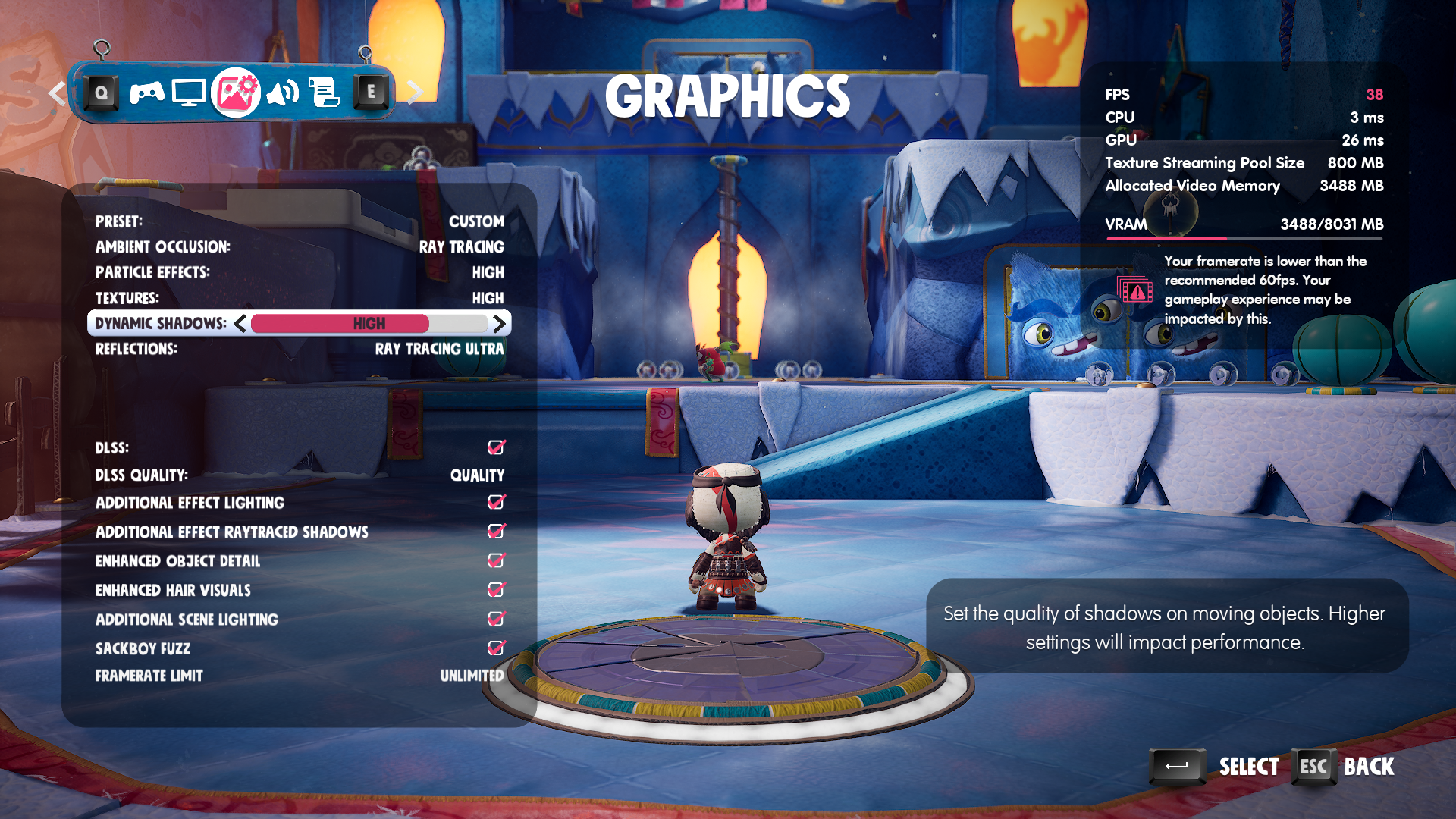 There is no in-game benchmarking tool here, but the addition of a performance counter in the graphics menu is a welcome one. It gives you enough information about the effects being applied in real-time in the background, so you can monitor performance and make adjustments without jumping into wonky gameplay. More of this, please!
Sackboy PC Controls and Gameplay
Whenever a console game gets ported to PC, one of the most important things to get right, besides performance scalability, are the controls. Translating a moveset designed for a controller to a mouse and keyboard can be a tough job, so what does Sackboy have in store for PC gamers? Well, beyond KBM, the game also supports the Xbox controller as well as PlayStation's dualshock and dualsense controllers.
The mouse and keyboard support though leaves me wanting more. Sackboy doesn't have a freely controllable camera, instead adjusting automatically depending on the player's position. On PC, this means your mouse is useless outside of menus. Playing the game with just the keyboard is a little weird, and the default button layout isn't the best I've seen. Of course, you can change the layout as you wish or, like me. use a controller.
One of the smaller benefits of launching on PC later is post-launch content available for free. The retail Steam version of the game includes costumes from other PlayStation games such as Atreus, Kratos, Freya, Nathan Drake, Chloe Frazer, Clank, and more. Of course, linking your Steam account with your PlayStation account also grants you access to in-game bonuses, which are cool but not game-changing in any way. The game also includes seamless co-op, although I didn't test it out for the purposes of this review. Speaking of which, you might need to connect your Epic Games account for it to function. As of the time of writing, there is no cross-play functionality, so you can't play with your friends on PlayStation, which would've been nice considering it was one of the earliest co-op games on PS5.
Verdict
Sackboy: A Big Adventure's PC port is a great experience, but it can be better. The addition of AMD FSR/XeSS would sweeten this already sweet adventure, but the retail price may hold off new and returning players from checking out the game. The PC features make it a better version of the game to play over the PS5, provided you have the right hardware. Despite those though, the base version of the game is plenty of fun and you don't need ray tracing to enjoy this platformer.
Sackboy: A Big Adventure is now available on PC (Steam, Epic Games Store) and PlayStation 4/5 consoles for Rs. 3,999.
REVIEW COPY PROVIDED BY PLAYSTATION.