The arrival of God of War on PC is a significant moment of change in Sony's strategy with its PlayStation brand. Taking a page from Microsoft's book, making its first-party games cross-platform is something I didn't see coming, especially for a game that many heralded as the definitive game of a console generation. While Sony's PC strategy is nothing new, having started a year back with Horizon Zero Dawn and Days Gone, bringing its premier franchise in God of War to PC states that nothing is impossible.
What Is Old Is New Again
God of War originally launched on the PlayStation 4 and PlayStation 4 Pro consoles back in 2018 to critical acclaim, instantly updating the legacy franchise to modern standards. The game in its original form was rendered at 1080p (checkerboarded 4K on PS4 Pro) with a frame rate target of 30 FPS. The game was later updated to run at 60 FPS when played on the PlayStation 5. I played God of War's originally on a base PS4, and while I'm more of a PC gamer, I didn't find any problems with the game's 30 FPS limit. It's nicely implemented with occasional hitches during intense sections, but I've never seen anybody complain about its visuals.
On top of its beautiful visuals, God of War shines with its story and characters, so much so that I even rambled for 20 minutes on video about it.
The game's PC port removes all those visual and performance shackles, bringing unlocked frame rates and a myriad of arbitrary resolutions for PC gamers to choose from. This is Sony's best PC port yet, bringing almost every option PC gamers wanted to see right from the get-go. However, there are a couple of small problems I hope to see fixed in patches — the lack of a proper 'full-screen mode' and inverse mouse acceleration.
Playing God of War on PC, this is a pretty good port.
The graphics menu feels a bit lacklustre, but -
• DLSS/FSR being here is great.
• 'Original' PS4 preset = W
• 21:9 in cinematic moments nice.
• Taller 16:10 during big battles = W
• Default KBM controls are decent. pic.twitter.com/4S9xmkU4Xc

— Rahul Majumdar (@darthrahul) January 14, 2022
Another aspect of the game coming to PC includes mods, which in just under a week from launch include light customization as well as significant graphical updates. You can check out a list of all available God of War PC mods here, and I can't wait to see what the PC modding community comes up with in the near future for the game.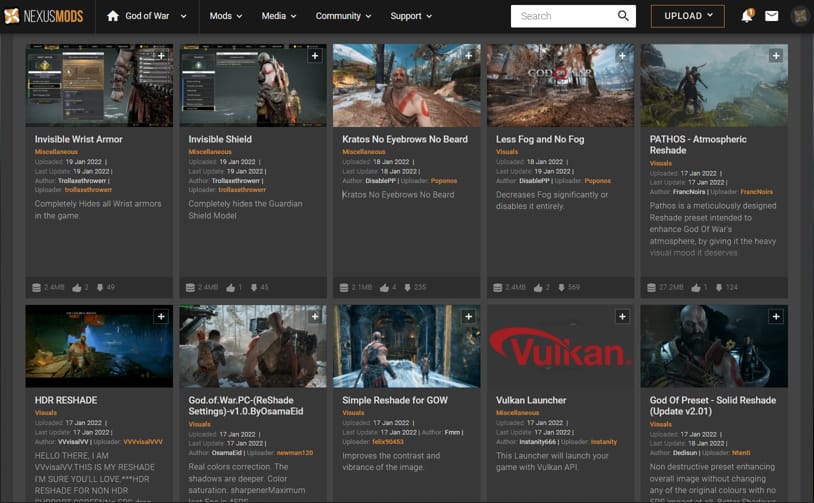 God of War PC Performance
God of War can be played in various configurations on PC, from its original PS4 settings at 1080p to all the way above 4K on 'Ultra' settings. Developer Santa Monica Studios recently published the official system requirements for the game and I'll say this — you can get away with lower-end hardware if you're fine with some compromises.