Marvel's Spider-Man: Miles Morales' arrival on PC marks the second project from Insomniac Games and Nixxes to grace the open platform and, given the first one's polish, it's no surprise that this, too, is a home run.
Miles Morales arrives just two years after its initial PS4/PS5 launch, making its PC launch window the shortest amongst PlayStation's recent push into the space. While you can say Uncharted: Legacy of Thieves collection saw the shortest wait to come to PC, that was a remastered port of a 6-year-old game. Miles Morales is a big upgrade over the vanilla Spider-Man experience, and just like how the PS5 version added new features over the original, the PC port also includes some new tricks up its sleeve.
A reminder for those double-dipping or who already have a PlayStation account: linking the same with your Steam account grants you bonus in-game items such as the Miles Morales 2099 suit and 2 skill points.
Console Performance vs New Changes
Miles Morales vs Spider-Man Remastered on PC. Kept the same settings on both, RT reflections on 'High': pic.twitter.com/MOg45Xt9FM

— Rahul Majumdar (@darthrahul) November 18, 2022
As far as features go, the biggest new additions to Miles Morales' PC version over Spider-Man: Remastered is support for ray-traced shadows and Intel's XeSS upscaling technology. Both of these were and still are, missing from Spider-Man: Remastered PC port, and it's interesting to see how they affect the game's performance and visuals.
Given the lack of an 'Original' graphics preset to match the console version, as found in God of War or Horizon Zero Dawn, it's hard to pinpoint exactly what settings the PS5 version of Miles uses. However, for the purposes of this review I used Digital Foundry's optimized settings from Spider-Man: Remastered to compare visuals with the PS5 version. For this, I turned off RT shadows as, given the performance profiles on the console and visual quality, it seems that's the only additive feature here.
The PS5 version of the game includes 3 primary performance modes — 4K at 30fps with ray tracing, dynamic 4K at 60fps, and dynamic 1440p at 60fps with ray tracing. However, subsequent updates to the game have also included new performance profiles such as an unlocked frame rate mode and support for 40fps while running in a 120Hz container. Miles' PC adventure has an unlocked frame rate and resolution, meaning gamers can push visuals and performance to the max without being locked to limited options. The addition of four upscaling techniques — NVIDIA's Deep-Learning Super Sampling (DLSS), AMD's FidelityFX Super Resolution (FSR 2.1), Insomniac Games' Temporal Injection (IGTI), and Intel's XeSS, meaning pretty much any PC GPU can take advantage of "free performance" as it were. It's nice to see all of these features make it to the launch version, something that was missing in PlayStation's recent PC port of Sackboy: A Big Adventure.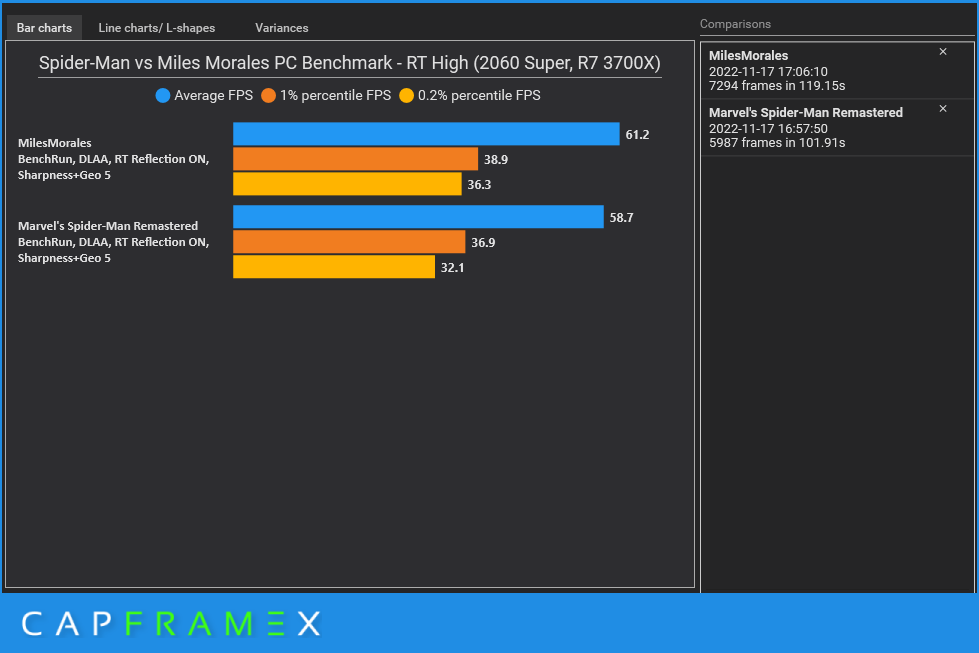 The control scheme for the PC version is essentially the same as Spider-Man Remastered, and it feels smoother to play thanks to Miles' acrobatic animations. Support for both the DualSense and Xbox controllers is present, and they work just as intended. Being on PC means one big thing — mods. Given how quickly modders were able to add fun things to Spider-Man Remastered, it's only a matter of time before Miles gets the same treatment.
This Spider-verse reshade is nuts! #MilesMoralesPC pic.twitter.com/iiL3MrvR5v

— Rahul Majumdar (@darthrahul) November 29, 2022
But with all that said, the addition of ray-traced shadows is interesting. For me, shadows are among the first things I turn down to get more performance. Ray-traced shadows are quite expensive on the GPU, but to my eye, the visual upgrade isn't noticeable. Reflections are easier to spot and make a bigger impact on overall visual quality, and if you're on a mid-range PC, turning off ray-traced shadows should be the first thing to do. On my system, turning off RT shadows gave me an additional 10 frames, regardless of what quality setting they're set to!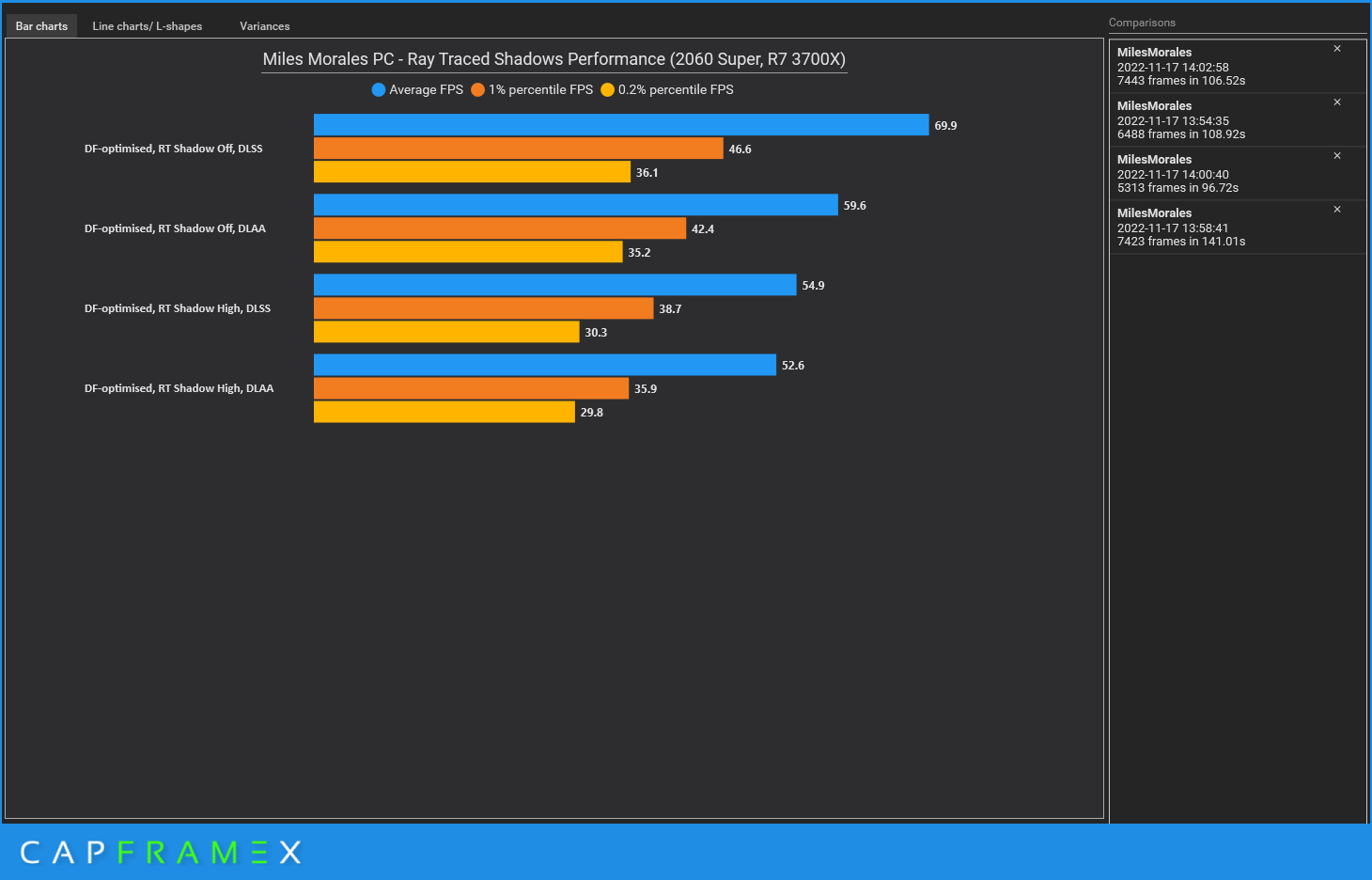 Marvel's Spider-Man: Miles Morales PC Performance Benchmarks
I played the game on my PC rigged with an Nvidia Geforce RTX 2060 Super and an AMD Ryzen 7 3700X CPU paired with 32 GB of RAM. Check out what the numbers say: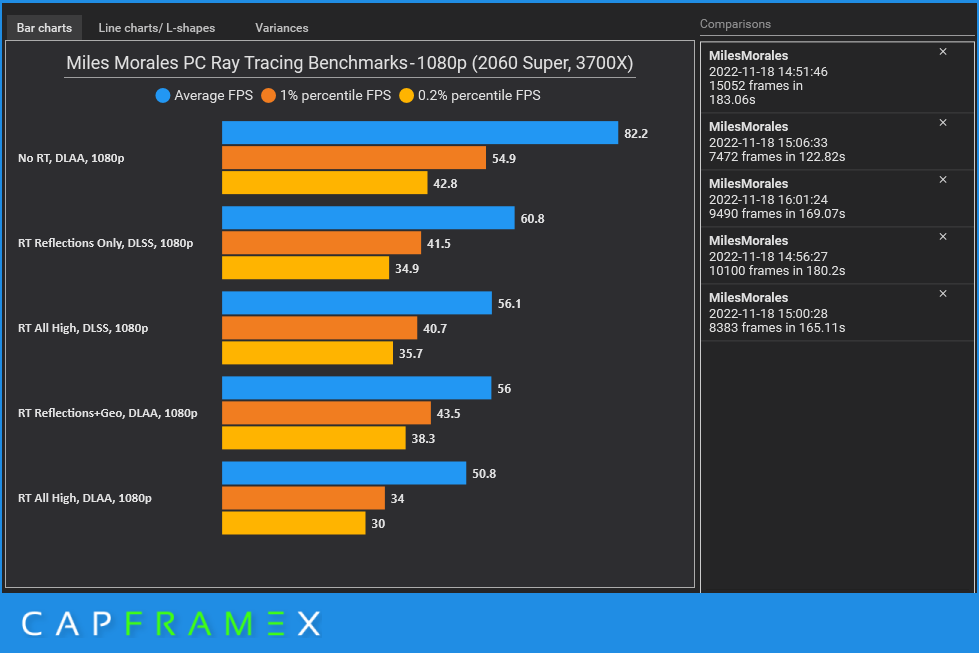 In terms of optimization, Miles seems to be on the same level as the previous game, so turning on RT effects and maintaining 60fps isn't hard. It does seem though that performance scaling with the resolution is tougher than last time around. This is noticeable from the first scene in the menu, which is notoriously heavy on the GPU. If you're fiddling with settings in the main menu screen and see big frame drops, don't worry. The actual game is easier on the system than that.
Seeing as how my PC is on the same playing field as the PS5, I tried to run the game at approximately the same visual quality as PS5, with similar dynamic resolution targets. For PS5's fidelity mode, targeting 4K on PC with dynamic resolution for 30fps on IGTI, it's tough. Even when lowering settings, ray tracing is quite expensive! Ok then, dropping output resolution to 1440p, and using IGTI to target 60fps was a little easier, but image quality took a hit. The PS5 version is, simply put, much cleaner. Using upscalers always introduces artifacts and coupled with my 1080p monitor, they tend to not look as clean. Of course, the performance uplift is worth it in many cases, and that's a matter of subjective taste.
As for visual quality, I've compiled a bunch of screenshots from both my PC and the latest PS5 build. The first one shows visual quality across all settings at 1080p:
Miles Morales PC Ray Tracing Performance Comparison
Miles Morales PC Ray Tracing Performance Comparison
This slider shows reflection quality at 1080p, 1440p, and on the PlayStation 5 version. Take a look!
Miles Morales PC vs PS5 Ray Tracing
Miles Morales PC vs PS5 Ray Tracing
For my money, DLSS takes the cake for bringing the best combo of being stable and offering relative sharpness with performance. Insomniac's in-house IGTI looks too low-res to me, with Spider-Man's mask showing obvious artifacts of frame scaling. AMD's FSR 2.1 comes close to Nvidia's DLSS but loses out on the same effect on pixel detail, and the newly minted XeSS makes RT reflections look too shimmery. Of course, all of these are mostly tested at 1080p, which admittedly is a low resolution for these upscalers. At 4K, the results will vary, but the general image feel will remain the same.
Verdict
Marvel's Spider-Man: Miles Morales is another great PC port, one with even more options to play with if you have the hardware capable of it. The new PC features add more visual scalability along with the most in-game upscalers to squeeze performance out of any modern GPU. The improved gameplay makes it a better experience, but the high retail price is a little disappointing, especially given its distance from Spider-Man Remastered's PC port.
REVIEW COPY PROVIDED BY PLAYSTATION.