Gaming subscription services have become highly convenient in an age where AAA video games cost what they do. With the PlayStation 5 now celebrating its two-year anniversary, there are plenty of games in the market for PS5 owners to enjoy and subscribing to the new PlayStation Plus is the best way to get the most out of your console.
Sony relaunched PS Plus earlier this year, and since then, has added plenty of games and benefits to subscribers.
PlayStation Plus India Benefits Explained
The new PS Plus comes in three flavours — Essential, Extra and Deluxe. All tiers include common benefits such as
100 GB of cloud storage
Access to online multiplayer
Free monthly games
Exclusive discounts in the PlayStation store
Exclusive DLC packs for popular games like Fortnite, Apex Legends, Call of Duty and more
Game Help
Share Play
PS Plus Collection
Beyond these, depending on the tier, subscribers can gain access to an expansive game library, classic games from the original PlayStation, PS2 and PSP era, and even extended game trials. Here are the features and benefits of PlayStation Plus in India:
There's only one option missing for PS Plus in India — cloud streaming. The feature is exclusive to streaming PS3 games and is only available in select countries. Given the nascent nature of cloud streaming for games, its absence isn't as noticeable as you'd think. Instead, Sony India offers a discounted version of PS Plus Deluxe compared to its international counterpart.
One of the underutilized features of PS Plus is Game Help. Ever found yourself stuck in a situation in-game and can't figure out how to proceed? Afraid of looking up answers online because of spoilers? Game Help includes video clips and written guides from developers to help progress through quests, puzzles, etc. Trophy hunters rejoice! Game Help is a great feature that can help you get through tough areas and even help in getting collectibles so getting that platinum trophy is easier.
PlayStation Plus India Pricing Explained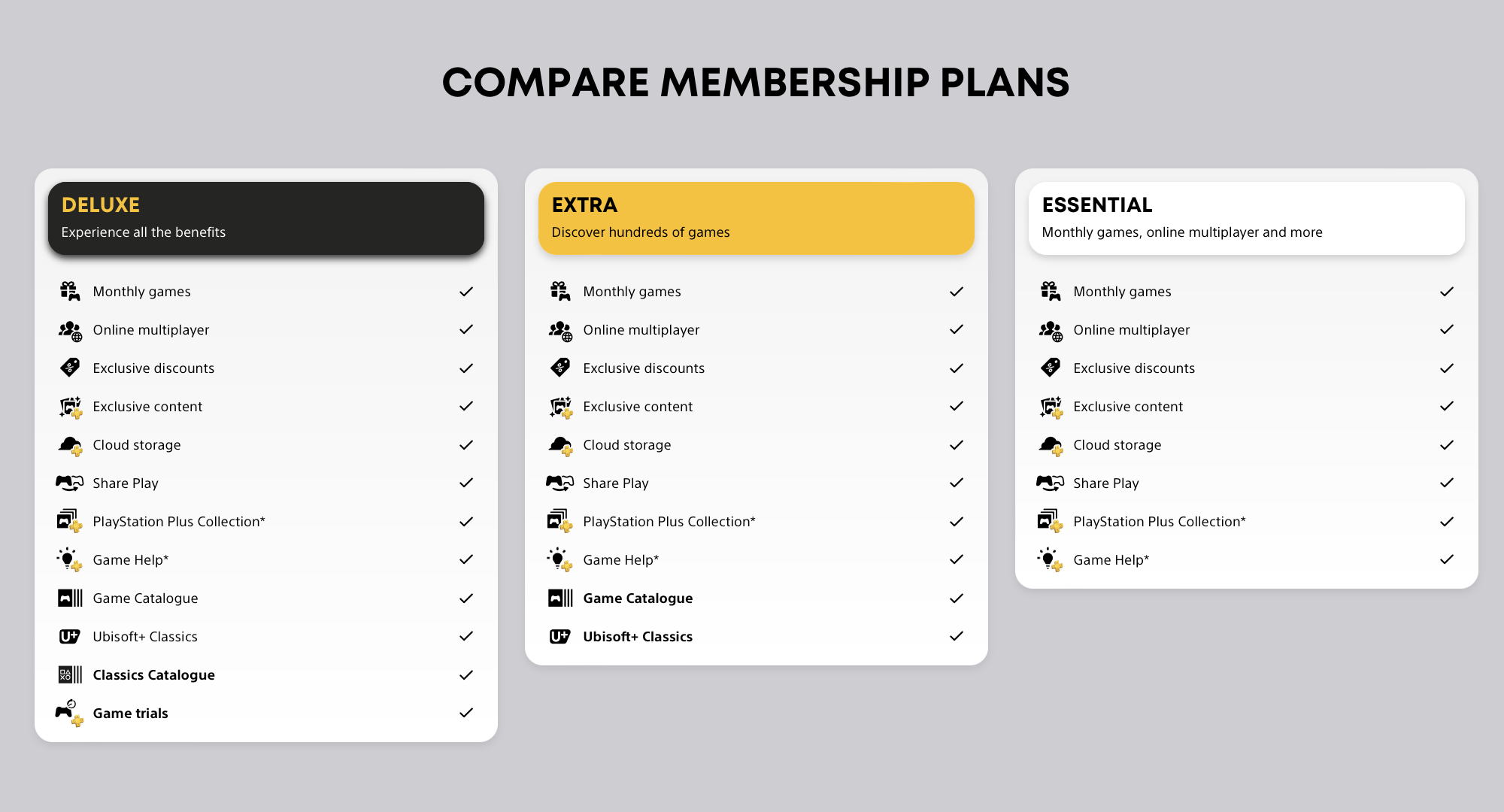 PlayStation Plus is now available in three tiers as follows-
PlayStation Plus Essential — Rs. 499 (monthly)/Rs. 1,199 (3 months)/Rs. 2,999 (annual)
PlayStation Plus Extra — Rs. 749 (monthly)/Rs. 1,999 (3 months)/Rs. 4,999 (annual)
PlayStation Plus Deluxe — Rs. 849/Rs. 2,299 (3 months)/Rs. 5,749 (annual)
Gamers can subscribe to the service using the new PS Plus vouchers available at retail in India, which are directly available for select tiers. If you want to redeem monthly subscriptions for lower tiers without entering card details on PSN, you'll have to make do by adding funds to your PS account with wallet top-ups, now on sale at official retailers such as ShopAtSC.
Compared to competing services, PlayStation Plus' services are a steal when subscribed annually. On subscribing to the service in an annual fashion, you gain up to 49% in savings. This means that if you subscribe to the highest tier (PS Plus Deluxe) annually, you gain access to all of its premium features at less than Rs. 499, the monthly cost of the lowest tier! Should you feel the need to change your tier, doing so on both the PlayStation website as well as on the PS4/PS5 console is easy.
Save big! New subscribers can save big on PS Plus, with Sony India offering up to 50% discount on annual subscriptions. With the offer, new members can get PS Plus Essential at Rs. 1,499, PS Plus Extra at Rs. 2,999 and Deluxe at Rs. 3,749 for an entire year! This offer is available until December 20, 2022. Log in with your PlayStation account at this link to avail the offer.
PlayStation Plus Extra and Deluxe — Game Library Explained
Here's a quick count of all the games in the new PS Plus at the time of writing:
Game catalogue: Roughly 380 games, discounting duplicates.
Classic Games: 44 titles (+1 more if you can find it)
Remasters: 49 titles.
Ubisoft+ Classics: 50 (included in the main catalogue)
Game Trials: 20 games.
PS Plus Collection: 19 games (8 are exclusive, not available in the game catalogue)
The PS Plus game catalogue keeps expanding as more games keep getting added to the service! Recently, high-profile games such as the following were added to the service — Mass Effect Legendary Edition, Biomutant, Skyrim, Rainbow Six Siege, Kingdom Hearts 3, Nioh 2, Judgment and Yakuza: Like a Dragon.
If you just bought your first PlayStation console with the PS4 or PS5, then PS Plus can help get you caught up with the many franchises from PlayStation Studios! PS Plus Game catalogue includes recently released exclusives such as Marvel's Spider-Man, Ghost of Tsushima: Director's Cut, Death Stranding: Director's Cut, Demon's Souls, Returnal, Final Fantasy VII Remake Intergrade, God of War, and Stray.
The classic games catalogue offers fan favourites from years past, such as Syphon Filter, Ape Escape, and the original Final Fantasy VII. Thanks to a handy new feature in PS Plus, you can rewind in-game events, gain new trophies, and select between NTSC and PAL regions to support the correct frame rate! All of the games redeemed on PS Plus will remain in your library so long as a PS Plus subscription tied to the games' specific tier is active.
The new PlayStation Plus service is an incredible addition to Sony's arsenal, providing great value for new and old console owners. The services' competitive pricing, paired with high-profile releases, makes it a must-have for any PlayStation owner.
This independently produced content is being promoted by an external partner.