https://www.youtube.com/watch?v=Nt9L1jCKGnE
The new Spider-Man: Far From Home trailer starts off with Tom Holland warning the fans about the abundance of Avengers: Endgame spoilers in the trailer. So this is a solid confirmation that the events of the movie take place not too long after Avengers: Endgame.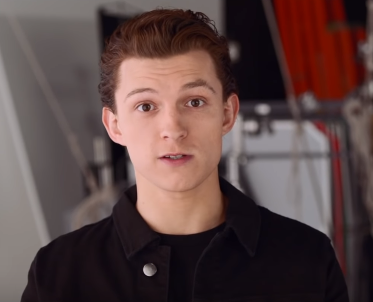 The second trailer for Spider-Man: Far From Home starts with Tom Holland warning the fans about the trailer containg major spoilers for Avengers: Endgame.
The actual trailer starts with Happy and Peter discussing how much they miss Tony. And the first time we catch a glimpse of Peter Parker without the suit on, he's all emotional and teary. Well, we too were like that after Tony's death. The trailer then progresses on a fairly lighter note.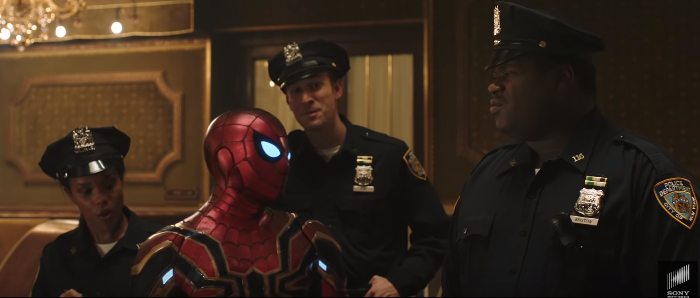 We get glimpses of the sassy, sarcastic Spider-Man. Peter even squeezes in a warning to the police about him going on a vacation. Later on in the trailer, we can see Nick Fury calling Spider-Man. But guess what? The teenager's avoiding Fury. And Happy's… well, not happy. Not because Peter is avoiding Fury. But because if Peter doesn't answer Fury's call, Happy himself will have to talk to Fury. Which he doesn't wanna do.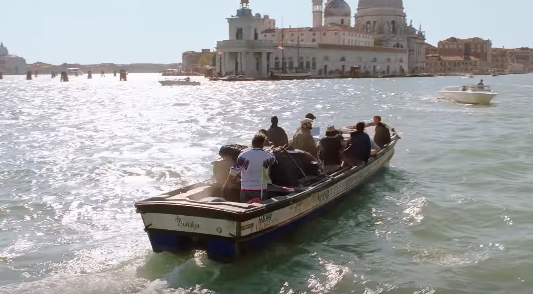 Peter and his friends enjoying their Europe trip.
After that, everything is all rainbows and unicorns for a while. That's because we see Peter and his friends, Ned Leeds, Michelle "MJ" Jones, and Flash enjoying their Europe trip. Seems like a great way to chill and relax after the events of and following the universal decimation. And Peter seems to think "MJ really likes" him.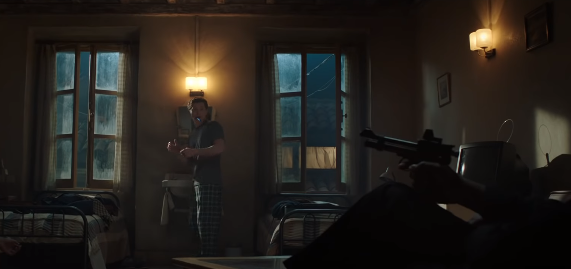 Peter's encounter with Nick Fury in Europe.
And he is apparently discussing this with Ned while in his room. And Ned's responding with something but gets cut off mid-sentence. That's Fury's doing. And that's where Spider-Man's actual adventure starts.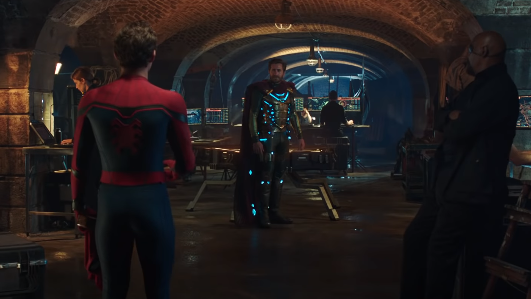 Immediately after this, the trailer introduces Mysterio. Mysterio, A.K.A Quentin Beck claims he "could use someone like" Spider-Man back on his world. Apparently, "Beck is from Earth, just not ours". And that's where Spider-Man: Far From Home introduces us to the multiverse. Funny how Spider-Man's introduced to the multiverse just because another world is in danger. Hello to you, too, Multiverse! Glad you could make it. Apparently, Mysterio's Earth was created due to Thanos's infamous snap tearing a hole through our dimension. Maybe, maybe not. Who knows? Marvel's pretty good at misleading us, after all.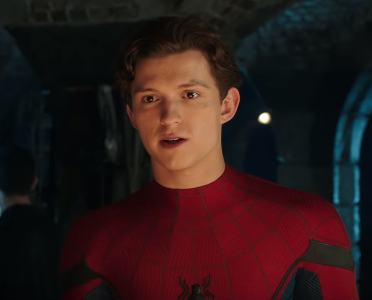 Peter, trying to convince Nick Fury to ask for help from another superhero, claiming he's just the "friendly, neighbourhood Spider-Man.
We've always known our friendly, neighbourhood Spider-Man as… the friendly, neighbourhood Spider-Man who's always happy to help. But he's on vacation this time around. And he honestly needs a break after going to space, seeing and fighting aliens, trying to stop a purple giant who wants to to commit mass genocide, getting dusted because of the same purple giant, coming back to consciousness after five years of being unconscious, and seeing his mentor die within minutes of that. But a vacation's definitely not what Fury has in mind Spider-Man. And he is so not happy about it. But both, Fury and Hill claim that no one else is available.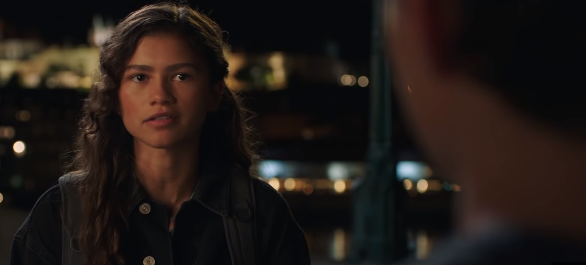 MJ claims that Peter being Spider-Man is "kind of obvious"
And everything after that is a roller-coaster. We see Fury asking Peter to step up. Mysterio gives Peter some advice. MJ says that Peter being Spider-Man "is kind of obvious". Uh-huh . Peter realises the world needs another Iron Man. That, it does. Because, although Thanos is gone, other threats are bound to emerge .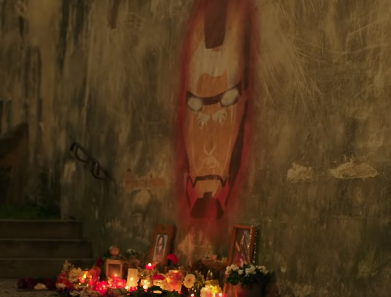 "The world needs next Iron Man"
What Spider-Man: Far From Home could mean for MCU's Phase 4
Well, after the second trailer of Spider-Man: Far From Home, it's obvious that the movie is pretty crucial to the fourth phase of the MCU. The trailer gives us an idea as to what all the fourth phase could include. For starters, we now know that there's gotta be something about the multiverse in phase 4. Maybe, Spider-Man: Far From Home is just an introduction to the concept.
Secondly, we know that Nick Fury is back in the game. Recently, his appearances in the MCU have been few and far between. Except for Captain Marvel; he was literally the sidekick in that one. But Spider-Man: Far From Home promises Nick Fury's return in the MCU along with Maria Hill.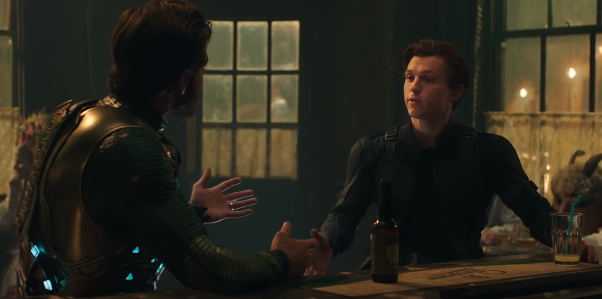 But what really doesn't sit well with us is Jake Gyllenhaal's Mysterio. In the comics, Mysterio is a special effects genius whose main aim was to defeat Spider-Man. He creates illusions to achieve his aim in the comics. He appears in many Spider-Man comic books as the main villain. But Spider-Man: Far From Home shows us a kinda different picture. While Mysterio's character isn't completely explained in the trailer, he's seen giving Spider-Man advice that could last a lifetime. This could very well be a cover-up to hide his actual intentions. But he gives off major good-guy vibes in the trailer. Marvel is known for misleading fans, though. But if he actually turns out to be the good guy he shows he is in the movie (which is kinda unlikely), he could be yet another one of the future superheroes we'll see in Marvel movies (again, pretty unlikely).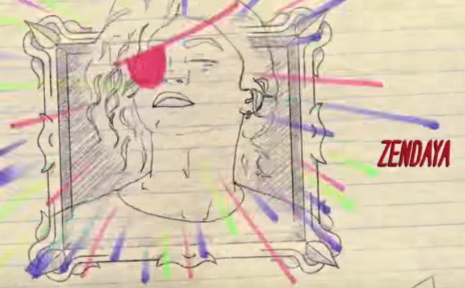 There are some other minor (with the potential to be major) details that the trailer gives us. The introduction to the Elementals, for example. They are the apparent villains, of the movie. At least, that's what the trailer tells us. There are also rumours going around that Michelle "MJ" Jones is Nick Fury's daughter. These rumours first started after Spider-Man: Homecoming came out, because of the movie's credits. We might find more such minor details in the movie that could be crucial for phase 4.
Spider-Man: Far From Home stars Tom Holland, Jake Gyllenhaal, Zendaya, Marisa Tomei, Samuel. L. Jackson, Jacob Batalon, and Cobie Smulders. Although, Spider-Man: Far From Home is the last movie of Marvel's phase 3, it could be the key to phase 4. Mainly because it is Marvel's first movie after Avengers: Endgame and its events are directly connected to the latter.
Directed by Jon Watts, Spider-Man: Far From hits theatres on the second of July, this year.