The very first teaser trailer for HBO's Watchmen is finally out and it is eerily strange. The trailer is filled galore with overwhelmingly terrifying masked faces and an almost continuously ticking clocks.
The series is an adaptation of Dave Gibbons and Alan Moore's pretty graphic novel, also titled Watchmen. The teaser trailer does not reveal the date of the premier and goes with just "fall". Fair enough. Because after Game of Thrones, HBO will definitely need another epic show to take its place.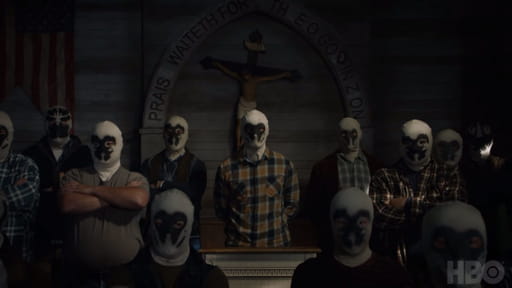 HBO Watchmen
The synopsis of the series also seems quite interesting. Apparently, the show is set in an alternate universe where superheroes are outlaws. However, the trailer itself does not reveal anything central to the plot. In the 'Watchmen' comic, Rorschach turns into a hermit vigilante for various personal reasons like responsibility towards his ideals and facing abuse as a child. In the series, however, Rorschach seems to be a whole group of people.
A shocker in the trailer was Adrian Veidt. Also known as the Ozymandias, he is the smartest man in the world in the comic. The last time we saw him in the comics, he was slightly younger. And considering his old age, his crime-fighting days are most probably over. He played a major role in the comics what with saving the world but causing the destruction of Manhattan and stuff. He also played a key role in the US and the USSR becoming allies. His lies about a nonexistent otherworldly threat are what brought the two superpowers together in the comics. But his role in the HBO series as an older man is still unclear. In the 'Watchmen' comic, Dr. Manhattan also plays a key role. But he did not make an appearance in the teaser trailer.
It is clear from the looks of the trailer that the series is going to be slightly- if not drastically- different from the original comic. You can watch the teaser trailer here:
https://www.youtube.com/watch?v=zymgtV99Rko
Watchmen stars Jeremy Irons, Regina King, Don Johnson, Jean Smart, Tom Mison, Frances Fisher, Jacob Ming-Trent, and Tim Blake Nelson among others. It is created by Damon Lindelof. The list of producers includes names like Nicole Kassell and Tom Spezialy. And the fact that this series has absolutely nothing to do with the 2009 Zack Snyder movie is a huge plus. The show will apparently have 8 episodes.
With only two episodes left of Game of Thrones, Watchmen might just be HBO's next big thing. After all, the clocks are ticking. And this time around, Fall is coming.