Hot on the heels of last December's Aquaman, DC is back to introduce another superhero we've never seen before - Shazam!. Ignoring the fact that this is the original Captain Marvel, the superhero's film debut has seen some pretty great reviews from critics & audiences worldwide. While Shazam's review embargo broke a couple of weeks ago, the film isn't seeing the heavy growth at the box office that its contemporaries are.
Shazam! stars Zachary Levy, Jack Dylan Grazer and Asher Angel and is directed by David F. Sandberg (Lights Out). The film follows foster kid & troublemaker Billy Batson, and his origins of getting the powers of the Greek Gods by uttering the word, you guessed it- "Shazam!". The film also stars Mark Strong as Thaddeus Sivana, the film's chief antagonist.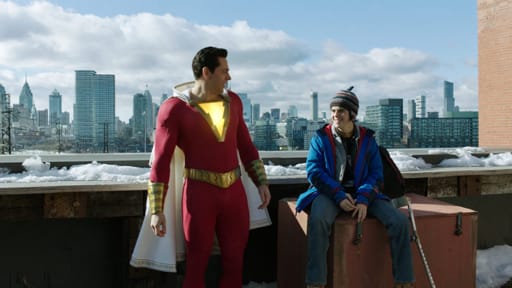 Shazam! stars Zachary Levy, Jack Dylan Grazer and Asher Angel as Captain Marvel's alter ego.
Right off the bat, let me just say that the film is a pure joyride. Stepping away from the darker tone that the previous films embraced, Shazam! marvels itself in child-like curiosity, and the fun that usually comes with it. While the movie begins on a pretty dark note, it quickly takes a turn to show us that DC isn't afraid of embracing a lighter tone for the sake of its characters.
Taking place in the sunny streets of Philadelphia, we follow Billy as he is adopted by, well, his new parents. Finding himself at unease at his new foster home, he makes friends with Freddy (Grazer), who prides himself in knowing about superheroes as much as the viewers watching this film. After some cute middle school shenanigans, the plot finally kicks into gear as Billy runs into Shazam- the oldest & only surviving member of the Council of Wizards. Who're they? Doesn't matter.
If you're enjoying reading this review, which says a lot about your patience, check out our video review below:
https://www.youtube.com/watch?v=rHbtm1ZPxDg&t=120s
From there, the film follows in the footsteps of other ones with similar plots (Tom Hank's big). We see Freddy train Billy the responsibilities of being a superhero. Now, if you ever wondered why Shazam is called so, comic book fans might point you in the right direction. To break it down, here are Shazam's powers:
Solomon's wisdom
Hercules' strength
Atlas' stamina
Zeus' power
Achilles' courage
Mercury's speed
Makes sense, right? Except some of these, especially Solomon's wisdom, don't really make an appearance. When Billy turns into his adult alter-ego, he's still a 15-year-old trapped in an adult body. Which is actually something I really liked, seeing as how it plays into some seriously funny moments. That's also where the heart of the film lies, with the growing relationship between Billy & Freddy.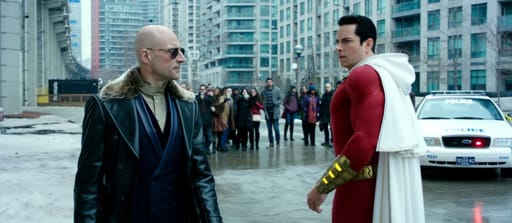 Sivana in Shazam! played by Mark Strong
As for the negatives, the DCEU has had its fair share of problems, one of them being the lack of truly compelling villains. Mark Strong gives a strong performance as Sivana, but the underlying writing behind the character make him weak. I'll say this, and this is not really a spoiler, but the film starts off with his own origin. I like the fact that they at least try to make us, the audience, feel for him. That's more than what we got with the rest of the DCEU. Overall though, I would have preferred a little more importance given to the antagonist. Fortunately, the film doesn't make him out to be that much of an important character, as the focus is on Billy and Freddy.
The supporting cast do their job alright. This is where the film very much feels like one out of the MCU. Funnily enough, pursuing that direction seems to be what's working, and I sincerely hope that DC continues doing so. At least after Joker. That one's going to be dark, so get ready for it.