Bollywood has evolved as far as comedies have concerned. From Hrishikesh Mukherjee's endearing comedies to remakes of Malayalam comedies. With the Luv Ranjan produced De De Pyaar De gearing for a May release and the recent success of Total Dhamaal at the box office It has proved that comedies are the most saleable genre in the Industry. So here is the list of the 5 Best films under comedy in Bollywood between 1970s-2000s.
1. Chupke Chupke
Amitabh Bachchan and Dharmendra the two megastars of the 70's starred in Indian cinema's most revered film Sholay which was released in the year 1975. In the very same year, both of them starred in the light-hearted and endearing Chupke Chupke directed by Hrishikesh Mukherjee which co-starred Sharmila Tagore and Jaya Bachchan (nee Bahaduri).
It revolves around a professor who tries to fool his wife's brother in law whom she thinks can't be fooled. For this, he takes the help of his friend a fellow professor and the confusion which occurs is the crux of the film. The film was a critical as well as a commercial success.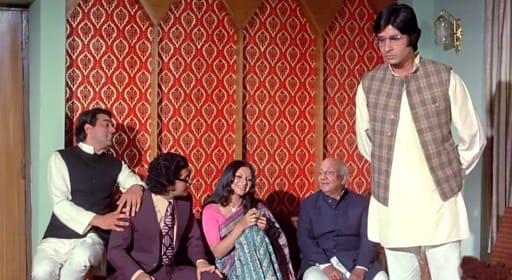 2. Golmaal
Not mistaking it for Rohit Shetty's Golmaal Series but the original cult classic Golmaal which starred Amol Palekar, Bindiya Goswami and Utpal Dutt. It was directed by Hrishikesh Mukherjee and is currently the highest rated comedy in IMDb
The film's plot is about Ramprasad (Amol Palekar) who is unemployed who finally gets a job at Bhavani Shankar (Utpal Dutt)'s office but is busted by him while watching a hockey match. Confused he lies that he has a twin named Laxman Prasad and the situational comedy which arises is nothing but pure gold.
The film was a blockbuster and one of the year's highest grossing films. Various remakes in other languages followed all of them which were successful, including Rohit Shetty's own version named Bol Bachchan starring Ajay Devgan and Abhishek Bachchan.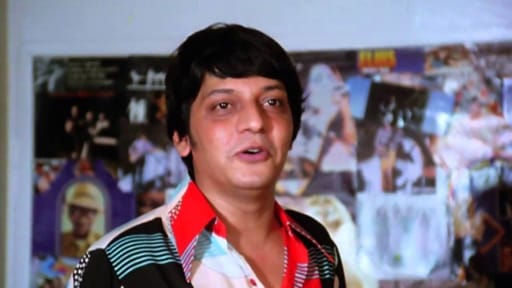 3. Jaane Bhi Do Yaaro
Kundan Shah's clever satire which was produced by NFDC was a flop when it was released but later gained a significant cult following among the audiences.
Vinod (Naseeruddin Shah) and Sudhir (Ravi Baswani) are two photographers who accidentally capture the murder of the City municipal commissioner D'mello (Satish Shah) by a builder (Pankaj Kapoor). How these photographers discover the dark and the ugly side of Mumbai is shown in the film.
The film is best remembered for its iconic Mahabharata Climax sequence which is considered one of the funniest scenes in Indian cinema.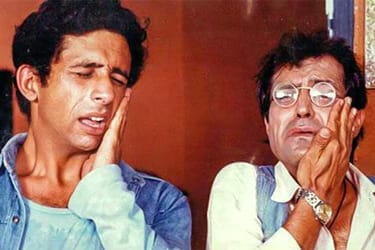 4. Angoor
Until 1982 Gulzar was considered as a director who could handle complex dramas very skillfully. This adaptation of William Shakespeare's A Comedy Of Errors proved them all wrong.
Ashok (Sanjeev Kumar) and Bahadur (Deven Varma) are two identical twins with the same names. The comedy and confusion which happens due to characters drinking "bhaang" is hilarious and amazing.
The film was a huge success and was considered one of the biggest hits of Sanjeev Kumar as a solo hero.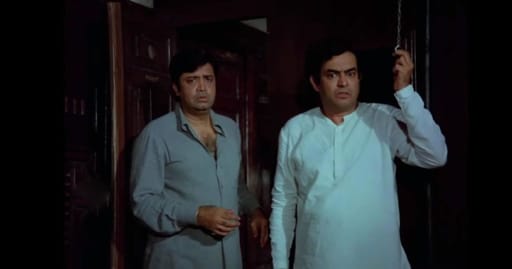 5. Hera Pheri
Malayalam filmmaker Priyadarshan who was reeling under the failure of Doli Saja Ke Rakhna. Teamed up with Akshay Kumar, Paresh Rawal, and Suniel Shetty to give a comedy masterpiece that is cherished even today.
A remake of Siddique-Lal's Ramji Rao Speaking. It is about three men who need money, stumbling and acting as middlemen in a kidnapping case involving a huge businessman.
The film was a hit at the box office and established Akshay Kumar as a comic actor and Priyadarshan a household name in Bollywood. The film has been subject to immense popularity with various pop culture references. It also had a sequel named Phir Hera-Pheri which was equally successful at the box office.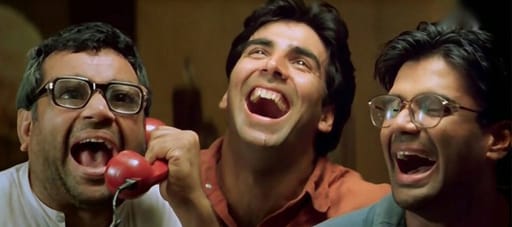 So, there you have it. If you've been disappointed with how comedies are turning out these days, we hope revisiting these classic will lighten your mood!